Bussey's Florist
With the 4th of July approaching, it is a good time to send flowers to friends and family. Many people order 4th of July Flowers online and that is a great way to celebrate. Some people prefer delivering fresh-cut flowers in person and that is also a great way to go! Regardless of your preference, our team of professional Floral Designers is standing by to help you select that perfect arrangement of Flowers or Festive Plant. Below are some tips for buying beautiful blooms and arranging them so they last longer than just one day:
SPECIAL DISCOUNT OFFERS – USE ON MAIN WEBSITE
Rose
The rose is the national flower of the United States. It is often used to celebrate Independence Day, and you can find roses in a variety of colors and sizes at your local florist or grocery store. Roses come in many shapes and sizes, too! If you are looking for a patriotic way to show someone how much you care about them this holiday weekend, consider giving them some roses from our local flower shop on Saturday morning–and do not forget: red means love!
No matter what color of rose you choose, giving someone flowers is a great way to show them that you care. And while they may not be the most practical gift (after all, they do not last very long), they are still one of the most thoughtful ones around! No matter what color of rose you choose, giving someone flowers is a great way to show them that you care. And while they may not be the most practical gift (after all, they don't last very long), they're still one of the most thoughtful ones around!
Sunflower
Sunflowers are a good choice for any celebration, occasion or holiday including the 4th of July! They are also a great way to send your love on Valentine's Day or Mother's Day!
Cosmos
Cosmos are great for bouquets because they're so easy to grow and they make a great cut flower. They are also bright, cheerful, and easy to find at your local garden center. Cosmos will last for several days if you keep them in water or if you put them in a vase with fresh water every day. If you want to keep your flowers for longer, try putting them in water with a few drops of bleach. This will kill any bacteria that might cause the flowers to wilt. If you do not have access to a garden center, try growing cosmos outdoors. They are easy to grow and will thrive in your garden if you give them full sun and well-drained soil.
Butterfly Bush
Butterfly Bush is a perennial plant that grows to be about 3-5 feet tall. It has fragrant yellow flowers that attract butterflies, bees and hummingbirds. It is a member of the rose family and hardy in zones 4-8. The butterfly bush is a popular ornamental plant because it attracts butterflies and hummingbirds. It is also drought tolerant, making it a good choice for xeriscaping. Butterfly bushes are hardy in most soils, except those that are very wet or very dry. They are drought tolerant and will thrive even when neglected.
Poinsettia
The poinsettia is a popular holiday plant, but it is not native to the United States. It is actually a tropical shrub that grows in Mexico and Central America. The name comes from Joel Roberts Poinsett, who brought the plant back to America in 1828 after traveling through Mexico as Secretary of War under President Andrew Jackson. The plant is also known as the Christmas Star, and it is a symbol of the Virgin Mary. The flower has five red-and-white petals that represent both her Immaculate Conception (the purity of Jesus' mother) and her Five Joys (the five events from the life of Jesus). The plant is poisonous, but it is not deadly. The leaves and stem are more toxic than the red bracts, so it is best to keep them away from pets and children.
Gerbera Daisy
The Gerbera Daisy is a bright and cheerful flower that makes for great 4th of July decorations. It is also a favorite for sending to friends and family to celebrate the holiday. If you want to send your loved ones flowers this year, consider getting them the gift of Gerberas! Gerbera Daisies are easy-to-grow plants that come in many colors, so you can choose what looks best with your decorating scheme. They are also quite hardy so they can survive being shipped across town or across country if need be! Gerbera Daisies are also a great choice for those who have little experience with gardening. They are easy to care for and can even be grown indoors!
Conclusion
These flower varieties are sure to bring the smiles for your 4th of July celebration. The Fourth of July is a time for celebration and family. With this in mind, it is important to send flowers that will not only brighten someone's day, but also show them how much you care about them. Whether you are sending something across town or across the country, there are plenty of options available at our website. Here are some suggestions:
Red, white and blue flowers are always a good choice for Independence Day. You can not go wrong with roses or carnations in these colors.
Another option is to send an arrangement that includes the American flag. This is a nice way of showing your patriotism while also sending something beautiful.
For a more unique option, consider sending an arrangement with an American flag in the center. This will allow your recipient to display both their patriotism and their appreciation for flowers at the same time.
These 4th of July flowers can be used as centerpieces or bouquets, and they will certainly add a patriotic touch to your party or barbecue!
Bussey's Florist Independence Day Flowers & Gifts
Same Day Flower Delivery Service
Bussey's Florist offers the best selection of beautiful, farm fresh flowers in Cedartown and Rome. The fourth of July is right around the corner. We have a nice collection of 4th of July Flowers and centerpieces displayed on our website. These designs are fabulous and will really help with your Fourth of July decorations. If you don't see the exact Independence Day themed bouquet on our website that you need, we encourage you to contact one of our floral design centers. We can custom design a Fourth of July themed floral bouquet or table centerpiece, that meets you exact needs.
Bussey's Flowers is a local, family owned and operated floral design firm. We offer the best selection of beautiful, farm fresh flowers in town. We employ an award-winning floral design team. They create luxurious, upscale flower arrangements. Our firm also offers the best selection of green, flowering, and tropical plants in Floyd and Polk counties. We operate 2 flower shops in Cedartown and Rome, Georgia. Our firm provides same day and express flower delivery service 6 days a week to customers in Floyd and Polk counties. If you need to send flower outside of our local delivery area, we can accommodate that request. We provide nationwide same day flower delivery service to cover those situations.
We offer the best selection of beautiful farm fresh flowers in town. Our firm is one of the largest floral design firms operating in Floyd and Polk counties. Our size and capabilities provide great advantages for us and for our customers. One example being this. We purchase many of the flowers we sell direct from flower farms. The award-winning floral design staff at Bussey's is another great advantage our customers enjoy. These floral artisans are truly some of the very best in the industry. We would be remis if we didn't also mention the incredible delivery staff that we have as well. They are extremely professional, and laser focused on ensuring that we maintain our on-time delivery guarantee.
Buying fresh flowers direct from flower farms is a huge advantage. The time between when the flowers are cut at the farm and when they arrive here at our flower shop for use in arrangements is greatly reduced. That means the fresh cut flowers we use in our arrangements are the finest and freshest possible. Fresher flowers translate directly into longer vase life for the people who receive bouquets from us.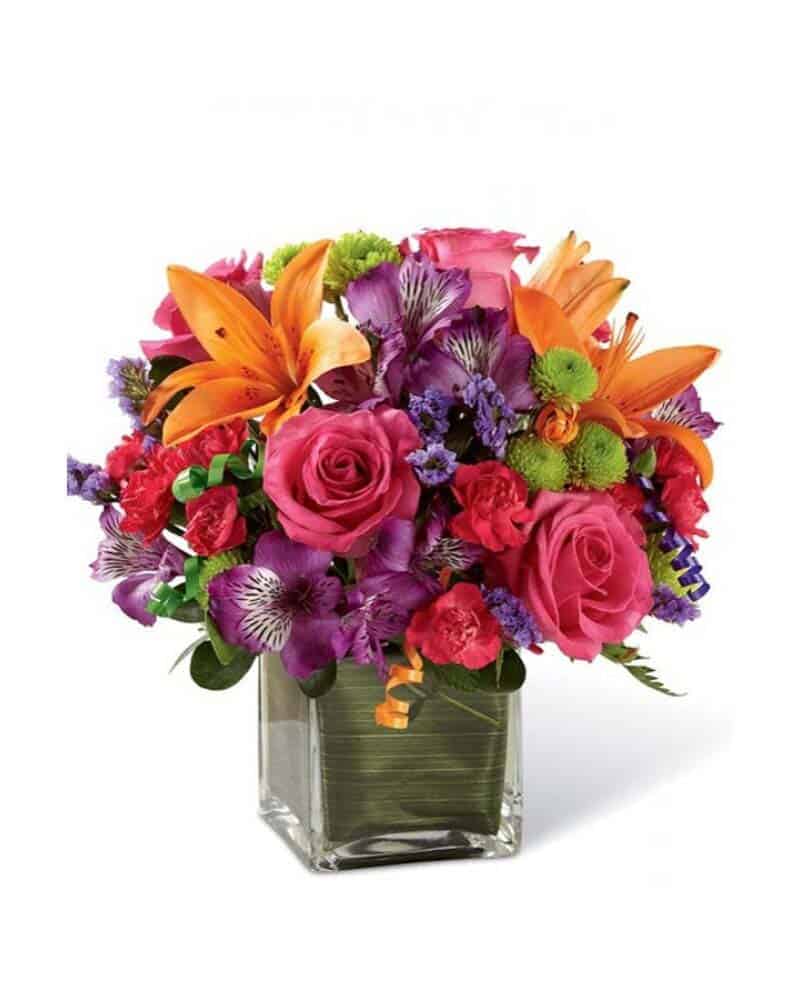 Celebrate Life's Special Moments with Celebrate Bouquet
Our floral design team at Bussey's Florist & Gifts created this beautiful arrangement. We call it "Bussey's Celebration", a colorful collection of the freshest blooms in our inventory and a festive addition to any celebration! Bussey's arrangements are custom gifts designed by hand. Mother Nature changes our farm-fresh inventory every morning. To assure your gift is fresh and gorgeous our designers may need to make substitutions but will capture the color & style of your selection to deliver a "WOW" for your recipient.
Locations
Bussey's Florist & Gifts Rome
500 East 2nd Avenue Suite 7
Rome, GA 30161
Bussey's Florist & Gifts Cedartown
302 Main Street Cedartown
Cedartown, GA 30125