Bussey's Florist
Rome, Georgia Flower Shop Helps You Show Your Appreciation
Bussey's Florist is a family owned and operated flower shop with locations in Rome, Georgia and Cedartown,  Georgia. We offer award-winning floral design combined with personalized service, unique gifts, variety, high-quality flowers and plants, and good value for local and national delivery throughout the year and for all occasions.
Now that the holidays have passed, it's a good time to acknowledge all the thoughtful gestures, special gifts, and party invites you received during the season. Starting out the year on a positive note of showing appreciation also can set the tone for a new perspective going forward.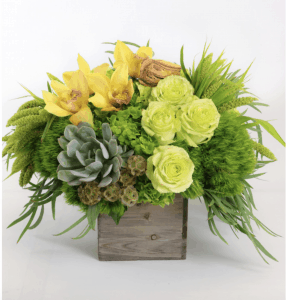 Here are some thank you gift ideas from our collections:
Seven Hills
Color Me Yours Bouquet
Another option to show your thanks is to send something bright and colorful that adds warmth on this chillier winter days. A smaller bouquet can send that message to all types of special people at a very affordable price.
Splendid Surprise by Teleflora
As an even more petite option, this cube floral design offers a mix of stunning flowers like green miniature hydrangea and lavender roses.
One Fine Day
With some of our spring flowers starting to appear, it's a good time to send your appreciation with a bright thought that sunnier days are on their way. This bouquet offers a combination of seasonal flowers in a leaf-lined vase.
Other Thoughtful Gift Ideas
Beyond these floral ideas, you can work with our floral design team on a custom thank you bouquet. Or, you can choose from our green plant collection, which includes indoor plants, blooming plants, and dish and basket gardens.
No matter how you want to show your thanks, we have something special and unique to express that sentiment!