Bussey's Florist Random Acts of Kindness Day Flowers
To be honest, most people feel the love when someone shows kindness towards them. In that same vein, Random Acts of Kindness Day Flowers are a wonderful way to show someone you care. Bussey's Florist has amazing flowers that anyone would be pleased to receive.
The Random Acts of Kindness Foundation was founded in 1995. This foundation started in the United States and is headquartered in Denver, Colorado. Accordingly, the founder is actually the Chairman of World Kindness, USA. Then in 2004, a day was created in New Zealand designed to encourage Random Acts of Kindness.
There are numerous suggestions promoted. For instance, buying food at the grocery store and donating it to a food pantry, buying flowers for someone, bringing baked goods to the office, taking a gift to new neighbors and the list goes on. Consequently, this wonderful tradition continues to grow in popularity.
What is more, people have expressed that doing a simple act of kindness makes them feel as positive as the receiver of that action. One of the best quotes regarding kindness came from Mark Twain. He commented, "kindness is a language which the deaf can hear and the blind can see."
Random Acts of Kindness Day Flowers is a great way to celebrate someone.
Bussey's Florist has the best flowers in town. We would be honored to help you find the perfect flower arrangement. 
In addition, below are some additional actions to consider:
When you are at your favorite coffee shoppe or restaurant, consider randomly paying for the coffee or meal of the person in front of you in line.
Write a note expressing words of kindness and leave it secretly.
Whenever you have the opportunity, pass along words of encouragement. People always need positive words.
If you are a good writer, perhaps use that skill to help someone. People often can use assistance with a resume of other documents.
Certainly, people sometimes need assistance with life. One nice act of kindness is to drop a load of groceries at a local nonprofit. For example, a food pantry.
How wonderful it can be to receive a "thinking of you" card. And so, this is something you might want to consider.
There are many folks that keep us safe and protect our communities. They do not always receive the acknowledgement they deserve. With this in mind, sending a thank you note to the local fire department, police department, military personnel or any other public servant can be a wonderful and much needed surprise.
As a final point, we sometimes forget that our expression can be an act of kindness. For example, a smile will go a long way.
Luxurious, Upscale Design
This popular bouquet is made even better when paired with a candle and delicious gourmet chocolates. A wonderful gift that will make every occasion special! Bussey's arrangements are custom gifts designed by hand.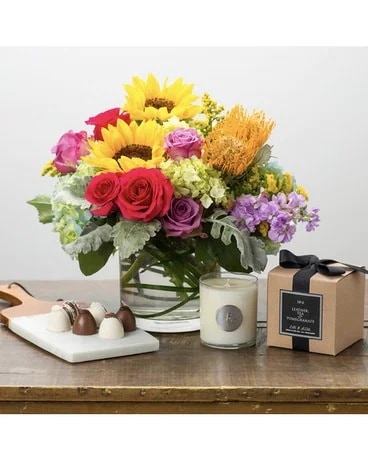 Bussey's Florist has been serving customers in Rome and Cedartown since 1976. We are a second generation, family owned and operated floral design firm. Therefore, we employ an award-winning team of floral design professionals. Consequently, our flower delivery staff is one of the best in Georgia. They provide local same day and express delivery anywhere in Floyd and Polk counties. We create luxurious, upscale flower arrangements.
Certainly, flowers are one of the most popular gifts in America. People send floral gifts to celebrate some of life's most magical moments. The most frequently purchased flower in the U.S. is the rose. We buy many of the roses we sell direct from flower farms. Our staff purchases from both domestic and international growers.
One of the most popular roses we sell is our Ecuadorian long stem rose. They are gorgeous. Grown high in the mountains of Ecuador. The rose plants enjoy the perfect blend of sunlight, soil conditions and moisture. That produces a rose with a longer stem and gorgeous, large blooms.
Bussey's Florist offers local same day and express flower delivery service to our customers in Floyd and Polk counties. If you need to send flowers outside of the area, we can handle that via our nationwide same day flower delivery option. Regardless of whether your arrangement is scheduled to be delivered locally or somewhere across the United States, we back every floral bouquet with our 100% customer satisfaction guarantee.
Cedartown Spectacular
The floral design staff at Bussey's Florist created the beautiful Cedartown Spectacular bouquets. For instance, it features pincushion proteas, lavender, pink and orange roses, hydrangea and orchids.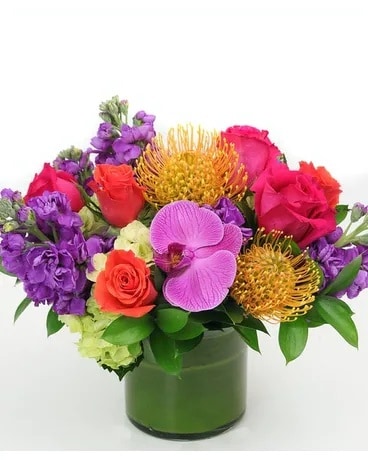 Cedartown Spectacular
Bussey's Florist & Gifts
250 Broad Street Rome
Rome, GA 30161